Are you a dog lover looking for an opportunity to turn your passion for animals into a fun and profitable business venture?
Dog Is Good helps dog-loving entrepreneurs like you!
A lifestyle brand founded by Gila Kurtz and Jon Kurtz, Dog Is Good offers puppy lovers a business opportunity to utilize its brand in their own pop-up dog stores.
According to Gila,
"For a little over a decade, we have been sharing our mission, which is delivering 'dogvergnügen'. It's a word we made up that we define as 'reminding people how great it feels to live life with dogs'. And as we highlight the positive impact and benefits of that dog-human relationship, we have been connecting with people who help pets, who help people, etc. And it's our mission to change lives one dog at a time."
A Little Bit About Dog Is Good
The recipient of several business awards, Gila is an international best-selling author and serial entrepreneur who found her purpose in working with dogs and their people.
She co-founded Dog Is Good for dog lovers and turned the start-up into an award-winning, multiple-figure lifestyle brand.
She shared,
"Dog Is Good started as a way to celebrate this relationship that we do have, to provide people with the unique opportunity to talk about this relationship – the impact that dogs have on their lives – and to share with the rest of the world, through the brand, how great it is to live life with dog."
Although Gila and her team are creators and manufacturers of gifts, apparel, home decor, and accessory products for pet parents, they also now offer great products for pets. This is to align with their focus on the emotional response that brings pet guardians back to the essence and impact of animal-human relationships.
"Our mission really is sharing the message through the tangible products that we create,"
Gila said.
To achieve this objective, they partner with retail stores worldwide and license their designs and messaging to other manufacturers. They also collaborate with dog lovers who want to have a greater impact in the community.
Aside from that, they have an eCommerce store and recently received a certification for their nonprofit called "Dog Is Good for Good".
It aims to support organizations that epitomize the essence of people helping dogs and helping people. The end goal is to serve on a greater scale and further make a difference.
"We're a very purpose-driven company… We believe very strongly that each person has impact. And because they're so connected with their dogs, that bond…is what can truly…change the world."
The Change That Brought Upon Dog Is Good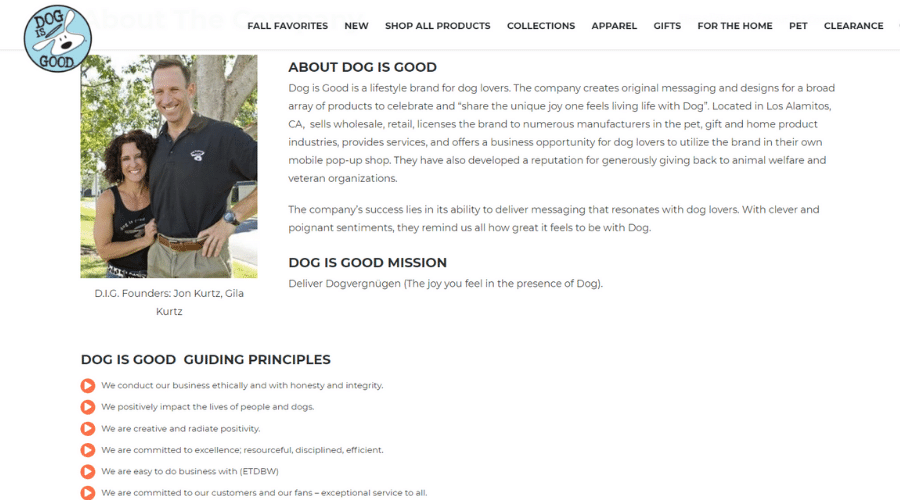 From a young age, Gila has made the decision to become a teacher. However, it was only when she married Jon and had a puppy that everything changed career-wise.
In fact, she attributed her career path as a professional dog trainer and the concept for the company to their first pup.
"Over the past several years, I still continued to train. My area of expertise is in puppy development and serving families with their new pups, to educate them, and to ensure that those dogs stay with those families for the remainder of their lives. And I love the work that I get to do…because I get to watch individuals experience…pure joy. They really get into their stories around their own dogs and how those dogs have changed their lives. I get to watch people who contribute in such huge ways to animal welfare and to benefit others."
This also inspired her to take a dog-centric approach to life and leadership. She utilizes her skills as a canine expert to inspire people to "fetch a life worth barking about".
Learn more about Dog Is Good!
Visit their website at https://www.dogisgood.com to know more.