Want to make your cats' claws more user-friendly? Let Kitty Cure help!
Kitty Cure is a safe and easy alternative that lets your cats trim their own claws.
According to Alan Kacic, inventor of Kitty Cure,
"The whole purpose of our company is to help animals groom themselves. We're trying to bring the outside inside for those cats that don't have the ability or access to the outside."
Making Cats More User-Friendly With Kitty Cure
A peel-and-stick nail file that goes right into your litter box, Kitty Cure's purpose is to have cat claws file themselves as your feline friend scratches.
Essentially, it reduces their dagger tip, making your cats more user-friendly.
"As you know, depending upon the pedigree, they will sheathe their claws anywhere from 60 to 90 days. So, this is a natural outlet for them to groom themselves in the privacy of their own litter box."
By applying Kitty Cure to the box, Alan said that it gives cats an earthy, gentle, soft material that is not only washable and removable but also waterproof.
He shared,
"This product is put together by three industrial sites. The primary company…is 357 years old. The glue company that makes the adhesives that go on the back of kitty cure…is over 147 years old. This is a product that is specifically designed for mammal use. It's odorless, non-toxic, soft, and gentle. You simply peel stick, and the cats do the rest."
The Benefits of Kitty Cure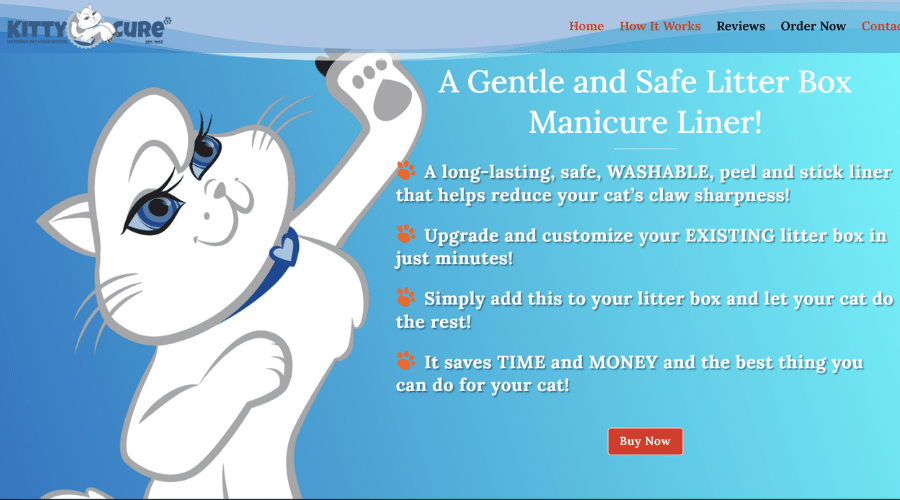 With more and more products in the pipeline, Alan emphasized that their primary goal for innovating was to develop a line of products that would emulate nature and that they could bring inside the house.
Not only does Kitty Cure save money and time, but it also saves you from going in your car and driving to a vet.
Apart from that, it helps reduce furniture damage and minimizes personal injury so that when you play with your kittens, you won't have to suffer from battle scars.
In the words of Regis Wiegand, who serves as the organization's managing partner and who also graced the Animal Innovations Show podcast with Alan,
"There's not a lot of other products like this out there. And I'm a firm believer. I support Kitty Cure. I support the vision, and I support helping indoor cats—pretty much doing what we do at K.C. Innovations."
Alan, Regis, and their team at K.C. Innovations believe that overall, Kitty Cure helps animals help themselves as far as grooming goes.
Eventually, they envision this to become the best way to nurture the human-animal bond.
When asked what they learned about themselves in the process of establishing the business, Regis replied,
"My biggest takeaway is just to be patient anytime. This is the first new product I've ever dealt with or brought to market. So, you know, you have ups and downs in sales… You can't expect everything to take off overnight… Just relax, let everything do what it's supposed to do."
As for Alan, he had this to say:
"It's not that easy to come up with an idea… This journey is a very complicated journey, but the same time, it's so fulfilling because when it all comes to the day's end, we know that we have something that…really helps a lot of people."
Learn more about Kitty Cure!
Check out their website at https://kitty-cure.com/.