Are you worried your dog will choke on that last bit of bully stick stub? 
Kirby Kendall, an organic chemist, had the same worries with his dog.
"My dog gets on that last inch or so of a stub, and you walk into the room, and she's like, 'Oh, he's gonna take it.' ─ Which we would ─ so she would gulp it down. And a couple of times, I have to reach into her throat and try to pull it out because she is gagging." 
Feeding Happiness with an All-Natural Bully Stick
Taking the stub away seems like pure evil since it is clear that dogs enjoy eating it. It does not hurt them unless they choke and gag on it. 
Kirby got the idea of inventing his version of a bully stick holder after trying out ones with clamping mechanisms. He can yank the stick out on the ones he tried, which defeats the purpose. His dog of 60 pounds can quite easily do the same.
In Kirby's words, 
"I am a garage inventor. I've invented a few things and never gone anywhere, so I'm going to tackle this one too. Maybe this one, I can take somewhere."
Kirby has a principle he follows as he works. It is to keep a list of requirements he will stick to. With this project, he had two.
The first one; he will not modify the chew in any way. 
He needed to break his rule to ensure the product's success. He drilled a hole on the stick, where he would fit a nylon pin inside. The pin will hold the stick in place, which is inside the rubber ring. 
"Another part of the requirement was no tools, and so everything had to be easy to do with just finger strength."
Kirby made it so that people could easily use it.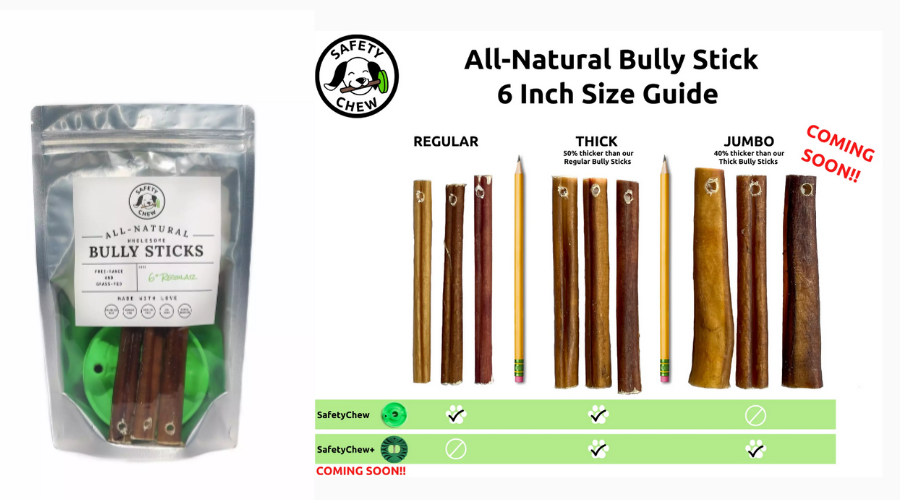 His drive to invent and create came to fruition after three years of hard work, brainstorming, and experimenting. He used different designs and materials to make the best possible bully stick holder. 
He tried to kickstart in 2018, which ended up as a total bust. It was launched as Everchew back then, but it did not sell well. 
His next try timed perfectly with the global pandemic. 
"Then we launched February of COVID. Yay. The week of the lockdown."
Unexpectedly, the pandemic became a sort of blessing in disguise for Kirby. They launched as Safety Chew this time around. 
"The pet product industry accelerated because people are home with their dogs during COVID."
This launch became more successful, with 60% of orders being refills and returning customers. 
Safety Chew's plans include preparing to release collagen chews this calendar year. Kirby is also working with food scientists to develop a vegetarian chew. There were also mentions of rebranding back to Everchew.
Kirby's journey is all about starting an idea and pushing through. Once you notice a problem and you know how to fix it, do it. 
Learn more about Safety Chew
Visit their website at https://safetychew.com/.