Wanna lend a hand in providing care for animals in crisis? You might want to become a volunteer for RedRover Responders.

A national animal welfare nonprofit that acts like an American Red Cross for pets, RedRover helps animals and people in crisis. It provides assistance through emergency sheltering, disaster relief services, financial assistance, and education.
According to Nicole Forsyth, the President and CEO for RedRover,
"We're there to help when people and animals are in crisis together. It could be a natural disaster. It could be a veterinary emergency, or it could be domestic violence. Domestic violence in pets is one of those areas that, unfortunately, through the pandemic, has grown even more. And so, we have paid more and more attention to this issue."
The RedRover Programs
Having been around since 1987, RedRover started offering a plethora of grants for people in crisis even early on. It continuously works on innovating its programs to help neglected animals, animals that are caught up in natural disasters, and animals with life-threatening illnesses.
Some of its programs include RedRover Relief, RedRover Responders, and RedRover Readers.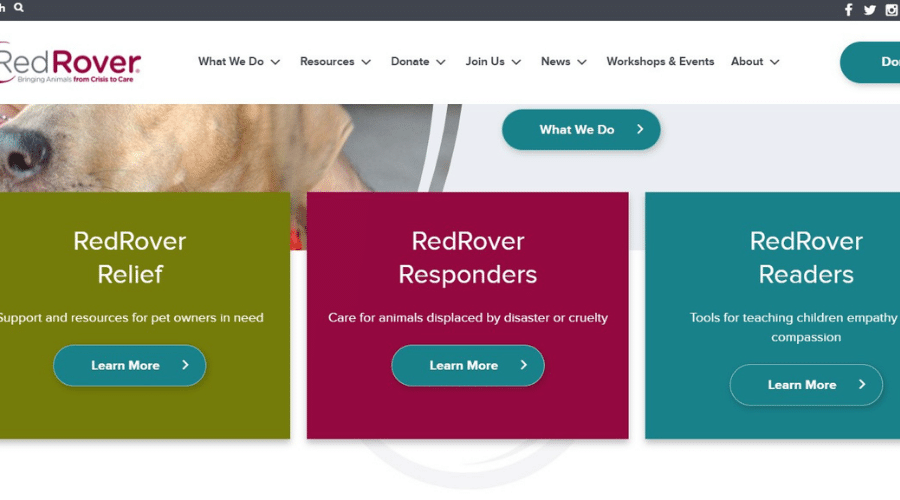 RedRover Relief preserves the human-animal bond by providing financial support and resources to DV survivors and individuals with low income.
The goal is for families to escape abuse together and remain in each other's company and care. And the nonprofit organization makes this possible through Emergency Boarding Grants, Urgent Care Grants, Domestic Violence Safe Escape Grants, and Domestic Violence Housing Grants.
On the other hand, RedRover Responders is meant to be an emergency safety net for animals. Through the help of more than 4,000 volunteers, RedRover is able to provide shelter and care for animals displaced by natural disasters and other types of crises.
As for RedRover Readers, Nicole and her staff created it to provide educators the tools they need to teach children empathy skills and inspire kids to make the world a better place.
RedRover Against Domestic Violence
RedRover also assists domestic violence survivors who are seeking safety with their pets.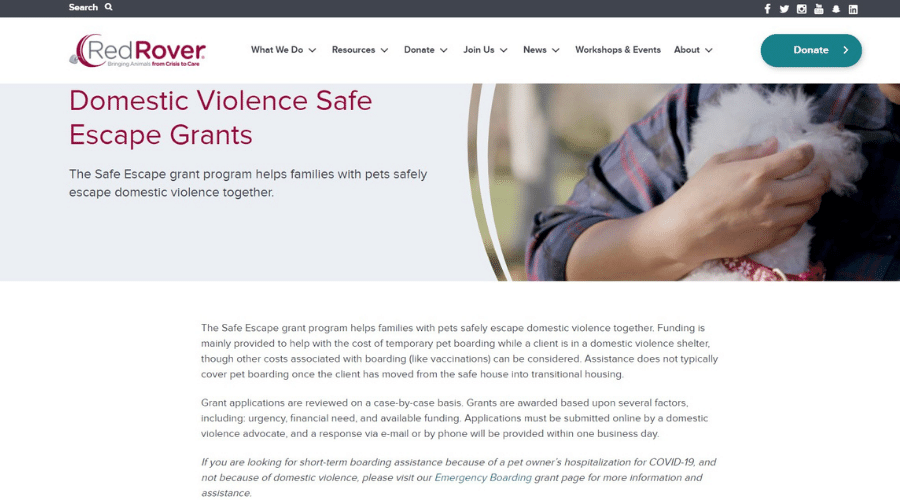 Nicole shared,
"Domestic violence in pets is one of those areas that unfortunately, through the pandemic, has grown even more. And so, we have paid more and more attention to this issue, as we've learned just how much of a barrier it is for domestic violence shelters to actually not allow pets."
Because DV is all about power and control, whether that's through psychological or physical abuse, pets at home are almost always involved in domestic violence. According to Nicole, some abusers tend to use a victim's relationship with their pets to the abusers' advantage.
"There's all these different kinds of threats that they might do. And sometimes, it's a matter of just intimidating them, kicking them, not letting you have an ability to take care of them, not letting them go to the vet. So, there's a whole range of behaviors that an abuser will do involving pets. And so, part of our job is to really help people understand what that looks like and also help domestic violence shelters understand how much of a barrier this is because people won't leave.
To help DV shelters solve the unique challenges they face, RedRover provides safe housing grants that either build facilities for pets or help shelters develop pet-friendly programs in their community.
The animal welfare organization also works with DV advocates to ensure that each DV survivor gets the support they need while their pet is being housed safely.
When asked about what envisions for RedRover in the long run, Nicole had this to say:
"I'm really interested in the connection between human health and welfare and animal health and welfare. So, all of our programs do tend to kind of look for those areas in society where people and animals are at their most vulnerable, or there's this connection there. There's a reason why they're in need, and there's a lot of socio-economic variables that tie into this. And, of course, a lot of racial inequity that ties into this, too… And so, I'm looking forward to seeing how that's going to help transform our work."
Learn more about RedRover!
Visit their website at https://redrover.org/.