Looking for a way to make sure that pets in your vet clinic are always safe and supervised?
VetGuardian is a revolutionary pet monitor just for you!
According to Scott Ijaraz, who is the organization's Chief Revenue Officer,
"This is the first and only zero-touch vital sign remote monitoring for veterinarians. What this does is that you're able to get all vital signs—temperature, pulse, and respiration—without any contact with the animal."
Pivoting from the Original Purpose of VetGuardian
With its patented and unique doppler radar-based technology, VetGuardian first came about as a device meant to monitor the company founder's newborn son.
After talking with a lot of veterinarians, however, the VetGuardian team decided to pivot their invention to help those in the veterinary profession.
"Veterinarians were saying, 'Wow, this would be really important for dogs and pets as well… Can you repurpose it for veterinary use?' So that's exactly what we did. And so far, we're really happy…and they're happier, too, just because they can get through their day a little bit safer."
Providing veterinarians with peace of mind, VetGuardian helps make sure that pet patients in clinics are safe at all times, from intake to discharge.
So even though it's wireless and not wearable, what makes it valuable is that it eliminates stress during monitoring.
You can also watch your animal patients from anywhere since the VetGuardian system immediately notifies you when they are in danger.
How Does VetGuardian Work?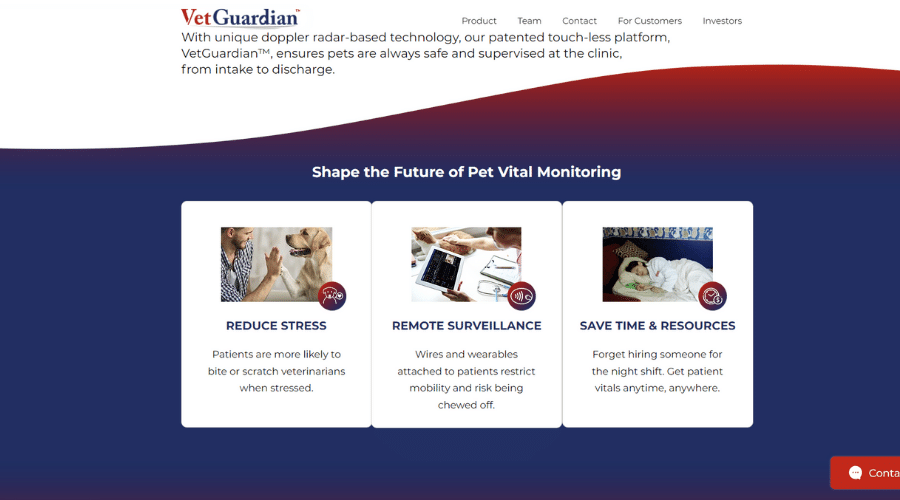 When asked how the VetGuardian technology works, Scott said that all you need to do is put the device within six feet of the animal and hit start. The device will then begin to collect continuous vital signs of the animal.
"We collect temperature, pulse, respiration, and movement as well. And really, why this is important is that it's one of the most important bioindicators for the health of the animal. So, if the temperature goes up really fast…or if the pulse goes down really fast, you're going to want to check on the animal,"
Scott explained.
One other benefit of using VetGuardian is that it expedites treatment and diagnosis. According to Scott, this is really vital, especially if the situation calls for surgery overnight in the ICU.
"It really keeps the patient calm. And when you keep patients calm, you're going to increase and improve outcomes as well."
Learn more about VetGuardian!
Visit their website at https://www.vetguardian.com/.