Wondering how you can keep your dog happy throughout the day?
DOGTV may be the answer!
In the words of Ameetess Dira, the SVP of Growth for DOGTV,
"We're a streaming channel for dogs and dog people… What we did was we created patented programming using the knowledge from experts and behaviorists to make sure that our programming is designed to suit the way they [dogs] perceive the world so they could enjoy it to its fullest."
On a Mission to Improve Canines
'

Lives Everywhere With DOGTV
An entertainment brand, pet brand, and wellness brand all in one, DOGTV offers a unique streaming service that aims to alleviate stress and anxiety in your four-legged companions.
Essentially, this means that all of DOGTV's shows and content are created to meet specific attributes of your puppers' sense of vision and hearing. By supporting your furbabies' natural behavior patterns, these segments provide the right company for when Fidos are left on their own.
"Our true mission is to create a world in which no dog ever feels alone. So the more that dog parents are aware that there is this tool that could help your dog feel relaxed when you're away, it will be good to just leave them with something that would make their day a little better."
As its website states, the end-goal of DOGTV is simple: to have more confident and happy dogs that are less likely to develop stress, separation anxiety, or other relevant problems.
Watching Exclusive Programming on DOGTV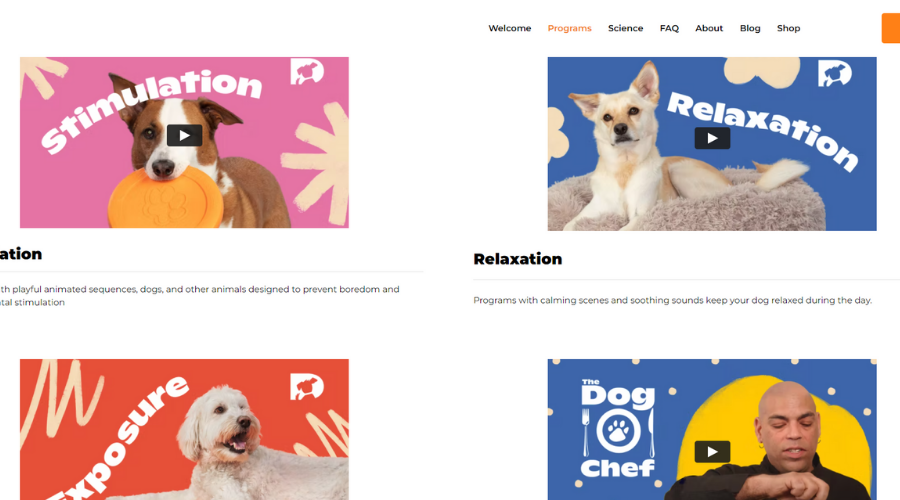 To ensure that your dog is happy throughout the day even while you're away, the DOGTV team divided its scientifically designed programs into three different segments: 1) stimulation, 2) relaxation, and 3) exposure. The segments have different time slots that were based on dogs' daily routines.
"Stimulation" contains programs with playful animated sequences, canines, and other furry and scaly companions. DOGTV intended these programs to prevent boredom and provide mental stimulation.
On the other hand, "relaxation" programs have calming scenes and soothing sounds to keep your pups relaxed. Meanwhile, "exposure" programs have exposure to sounds that help your canines get accustomed to things like car rides and doorbells.
You don't even have to worry about how to familiarize your pooches with watching the shows. According to Ameetess,
"Different dogs take to TV in different ways. So, we created this five-day challenge… It's like a day-by-day guide on how to get your dog used to watching TV the way we want them to."
As for dog parents, you're free to watch on DOGTV, too! In fact, you can find hundreds of fun, educational, and entertaining programs for pet parents. Some of these include The Dog Chef, Road Dogs, Things We Woof About, and The Adoption Show.
Luckily, you can get free one-month access to the DOGTV subscription when you use the code "DOOBERT". So, grab the chance now and sign up on DOGTV.
Happy streaming!
Learn more about DOGTV!
Check out their website at https://www.dogtv.com/.